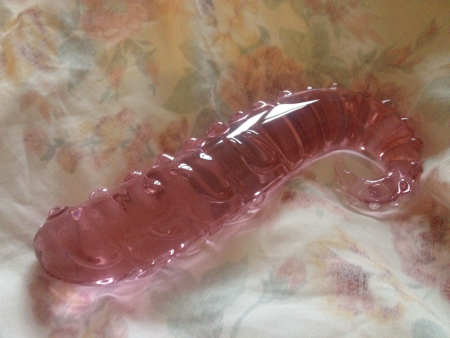 The glass tentacle dildo was my first glass toy and as much as I adore this thing, I wish I'd chosen something else. See, when I bought it I wasn't that aware of how little give glass has – like, duh, obviously, it's fucking glass – but having never held a glass toy in real life and having only a minimal idea of how heavy and firm they are, I went ahead and bought it anyway.
As soon as I got it out of the box (which I don't have anymore, but anyone familiar with Pipedream's other vibrators, dildos, etc, will know what they look like – they're very handy and I wish I'd kept mine) I was lovestruck. The beautiful translucent pink, the attention to detail, the whole thing was just awe-inspiring. And of course, all of that went to hell when I tried to use it and realised I'd bitten off way more than I could chew. It hurt, it was uncomfortable, I banished it back to its box and it sat in storage for months. Until I bought another, much smoother, glass dildo, and then another, this time a slightly curved one, and another, this time one with a lumpy bumpy graduated shaft. And I decided to give it a go again.
The tentacle offers different sensations depending on which side of it you're using, both for clitoral and internal stimulation. The top side (so the side that faces up when you rest it on its little curly tail) has two rows of circular nodules and a slight dip, a long split, down the centre of the dildo, and the bottom side (curly tail side up) has a raised ribbed texture, almost like veins. The tentacle works really fucking well for clit stimulation – did anyone else do the pillow humping thing when they were younger? – like, really, the bottom side of this dildo is perfect for that. Just lie it on a pillow and rub yourself over it.
The upper side I don't use as much for external stimulation because the lumps on it can pull a little at my inner labia, but I'm not saying that side's unusable for clit stim, not by far – heated in a bowl of warm water beforehand, slathered in the slickest lube, with someone else holding it by the tail and just lightly, slowly, dragging it between your thighs – it's dreamy. The stuff of not-shitty lesbian erotica novels, it makes your head feel like it's full of fluffy sunset clouds and candyfloss. Might make you drool too, if you're anything like me.
I've already touched on it but using this internally is intense. I'm sensitive to texture, and all the lovely lumps and bumps on this combined with the firmness of the glass is almost too much for me. Almost. I'm glad it's not girthier (it's 5 inches around in the middle, 6 inches long) as I think it'd be straight up painful if it were any larger. The shape of it's funny, it's not completely round, it's got the dip in the middle and an upturned tip and if you look at it head on (nose on?) it's actually more of a rounded square shape. It doesn't mess around and start off gentle either, there are two little nobbles right on the nose of it, so a copious amount of lube is required with this toy; some glass toys I can get away with using minimal amounts with, but this is not one of them. Warming them up beforehand is my personal preference with glass toys but I honestly feel like it helps me deal with the amount of texture on this dildo. I just feel like it's far easier to use when it's around body temperature.
Internally, I prefer using the side with the nodules facing up. They roll ever so gently against the top wall of my vagina, and tilting it causes the little upturned nose to rub at my gspot…it's one of those toys where you start off slowly because you want to go easy on yourself but you end up panting and unable to see straight, frantically rotating it, thrusting it hard and shallow. It's addictive. This is why I love the little tail handle – it has the nodules on the outside just like the rest of it does, and I'm convinced this is why I haven't lost my grip on it once. I love glass but jesus christ, the amount of times I've lost my pace just as I've been about to orgasm because my grip's slipped is rage-inducing.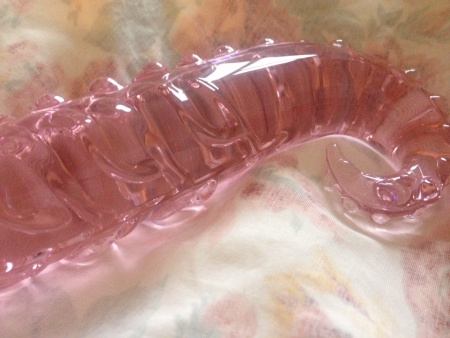 I've not tried this for butt stuff and I don't intend to, my butt, unlike my vag, doesn't like texture and I think trying to put something like this up there would be nightmarish, and I'm not even 100% sure on whether it's safe for that? Can anyone enlighten me? It doesn't have a flared base but there is the curly handle…but it's very, very slippery when lubed up and I wouldn't want to risk it myself. Just thinking about it is making my eyes water. Let's not.
One negative – I dread cleaning this thing. Lube and other…fluids*…get stuck in between the ribs, clog up the central split and attach themselves to the nodules, this is definitely a 'get it in the sink with the baby toothbrush NOW' job. But it looks so pretty and shiny and almost shimmery afterwards, you might not even mind that much.
This toy made me a texture slut and spawned an urge to try every other tentacle shaped dildo out there, and I wouldn't have it any other way. I have nothing more to say, I fucking love it and if it ever breaks or goes missing or something equally tragic happens to it, I'll be buying a new one asap. You should probably get one. I bought mine at Lovehoney.
*I'm sorry. Fluids is the worst term ever.