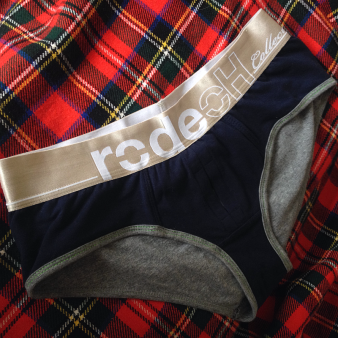 I don't do low rise anything. I don't think I've worn any jeans, trousers, skirts or underwear that don't come up to fasten by my bellybutton since I was what, thirteen maybe? My hips are practically circular and measure 40″ around – 13″ bigger than my waist – I have no butt to speak of, and long legs in comparison to my body. High waisted everything is just so much easier, so much more flattering on me. I normally wear a UK size 12 or 14 on my bottom half depending on the cut and the fabric of the item, and on how many late night meetings I've been having with the fridge recently. A lot of the time I get that weird gap at the waistline and still end up pinning them in. So, y'know, I always assumed that RodeoH's kind of…weren't for me. All the people I know who own a pair have much slimmer hips than me, and I don't think I've seen more than maybe three individuals who look like they're over a UK size 10 in their little photo-ad thing on their website. Hm. It's not exactly unexpected, but still. HMMM.
Lovehoney, who sent me these, have done really well with converting RodeoH's sizing into your standard UK sizing – I opted for the M/L, which are labelled as a UK 12-14. I was super nervous about trying these on – on taking them out of the storage bag, I thought maybe something had gone drastically wrong at the warehouse and I'd been sent some kind of novelty doll-size pants – but on trying them on they have a LOT of stretch. And oh my god, on my thighs and my bum they fit like they were made specially for me. The cotton's so soft, doesn't bite at all – I even did a couple of squats and few high-leg kicks just to make sure they were fitting properly! But that firm, strong elastic waistband sits right on the fullest, fleshiest bit of my hips and gives me a muffin top. It's not uncomfortable at all and not hugely significant but it's there. I've been thinking about it and I'm not sure if given the opportunity I would size up – they fit like a glove on my bum and thighs and the 2″ O-ring sits right on my pubic bone, right where I want it – if I size up, am I going to lose that? Will I be left with them sagging around my pancake butt? What do I doooo?
These don't come with much in the way of instructions, they arrive folded up into a turquoise storage bag with a blurb about the company printed on the front and their standard dogtags – I can't for the life of me understand the vehement hatred directed at these, I mean, they give off some pretty heavy early 00's vibes but if that's your bag it's your bag, the brooches that come with most of the Lelo Insignia line personally remind me of the piles of nasty made-in-China costume jewellery labelled as 'true vintage' I had to sort through at one of my previous jobs. Maybe I just really love freebies and it's blinding me.  Whatever. These are so straightforward I don't see the point of a manual, honestly – just push the length of your dildo through the O-ring from the inside, pull each half of the little cover over the base so it's not sitting flush against your skin when you put them on, and you're done. Totally not scary. Sometimes that cover gets pulled through too – don't panic, just pull it back out gently and adjust.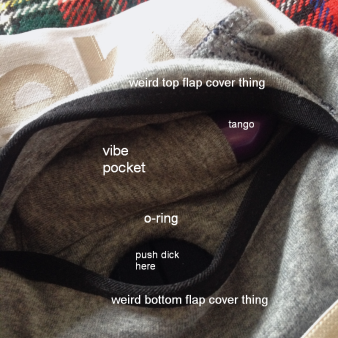 This particular style of RodeoHs come with a vibe pocket located just above the O-ring, which provides next to no direct stimulation for the person wearing them, unless you're counting the vibrations that travel a little into your dick of choice and into the base, but this basically turns you into a fully customisable human rabbit vibrator. I don't fuck with battery powered bullets anymore and prefer to use my Tango if I have to use a bullet, which just about fits in there. I was expecting it to slide about but it hasn't so far and I definitely haven't been treating these like they're made of silk and stitched together with unicorn hair.
As someone who finds most harnesses a bit awkward and silly with having to strap yourself into it and all the fiddly bits, these were great, and they're really good for impromptu (well, semi-impromptu, I only have a dick in my bag 60% of the time) sex too as you can wear them just like you would normal underwear. The O-ring sits right against my pubic bone, but depending on the size and weight of the dildo you're using, your toy might droop a little bit – my Mustang sagged a little bit, my Tantus Splash sagged a lot, but neither of them slipped downwards at any unfortunate moments, I don't need to keep a constant hand on them and I didn't feel like they were pulling the RodeoHs down. They have a two inch O-ring, but it's pretty flexible and if you want to use large, thick dildos (their website actually states that 'optimal toy dimensions' should be 5-6″ in length) and you need them to stay perfectly upright and perky like an overexcited cucumber all the time, I don't think these'll be sturdy enough for you. These can also be used with a strapless strapon like a Feeldoe or a Share, and for packing, although I haven't tried either of these.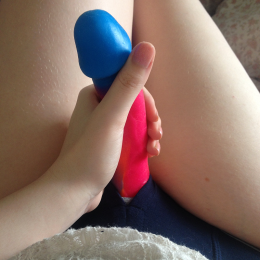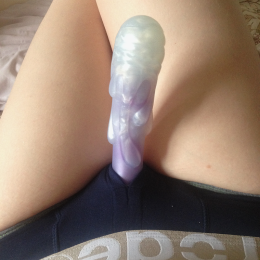 One more thing – if direct access to your genitalia is very important to you, you might end up a little disappointed. I feel like I'm stating the obvious here, but it's pretty evident from the pictures that these aren't crotchless and given how strong and clingy the material is, it's not that easy to just brush the crotch of them aside. This isn't an issue for me personally but I know it is for some people, so.
These can be chucked in the wash with the rest of your clothes, or hand washed. I've chosen to hand wash mine and dry them on a hanger, and I haven't noticed any dye loss, stretch or the material going bobbly which I'm pretty impressed with. I mean, in general I'm pretty impressed with these! They're really versatile, convenient, and I much prefer them to any other harness I've used, I just rreeeeaaaallllly wish they made a pair with a high waist. Imagine how cute they'd look peeking over the side of my dungarees!* The boxers are adorable but not really my thing and that lace panel style is absolutely killing me but they look like they have an even lower rise than these ones and I think the inevitable overspill would destroy my self esteem. Des. Troy. It. I also wish that their 'plus size' measurements were available in more styles as I know lots of cuties who'd love to wear these but just don't fit into the sizing offered. Modifying your own underwear isn't always an option, can be time-consuming and is for the most part a temporary measure**.
Overall, I really like these and I'm very happy with them, they're getting a lot of use, I think they're one of the better options out there if you don't like more traditional harnesses, and I can definitely see why they've become such a cult item. To be honest, I'm giving myself six months before I cave and buy myself a second pair. And thanks again to Lovehoney, who sent me these to review!
* How many family members can I disappoint with one sentence?
** Would anyone be interested in a short post on this/diy-and-desperation harnesses?