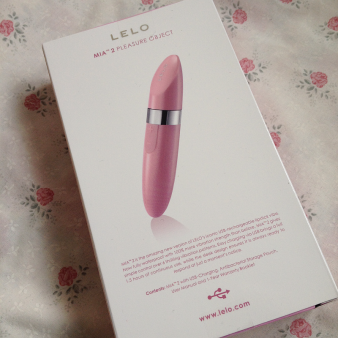 The Mia is so pretty. In fact, it's sooo pretty that I thought about setting up one of those ridiculous photos for it, where you have a beautiful buttery-soft leather handbag lying on its side, with a brand new lipstick spilling out next to a nail polish in a corresponding colour, then something totally irrational, like a fresh flower or a pearl necklace, and in the middle of it all, your luxxxury clit vibe, inexplicably without a storage bag and somehow completely intact and free from cat hair/lint/general dirt.
The Mia 2's touted as being travel-friendly, thanks to the relatively subtle shape and size – I'm not entirely sold that other people wouldn't twig what the pink and purple versions are, but the black one looks pretty innocuous – and the lock function, which you can enable by pressing down on the + and – buttons at the same time for three seconds, which means if I want to travel with it I don't have to do that thing where you swaddle it in a pair of tights or three and then sit gripped with fear just in case it goes off for the whole length of your journey. It's also surprisingly light, I was expecting it to be way weightier than it was but it's one of the most lightweight vibrators I've ever held, only slightly heavier than the Tracey Cox bullet I've shown it next to – that's with the battery removed – and much lighter than both my Tango and Iroha Sakura. Also, it's made of shiny ABS plastic which is easy to clean and attracts NO LINT AT ALL. Except for the silicone buttons. They will still attract lint. Ugh, lint.
The Mia 2 is simple to use and recharge – just plug into your laptop or computer, an LED under the buttons'll flash to show that it's charging, and when it's done charging it'll stop flashing but remain on to remind you, hey, I'm still here, you can unplug me now. You adjust the intensity of the constant vibration and skip through the pattern settings by pressing the + and – buttons respectively, and when you're done you just hold the – button, where it does a rather satisfying downward scale until it turns itself off.
I'm definitely not a power queen. I go numb easily, and I don't really like bullet vibes either because of how small they feel – ideally I need something with an indent or a broad surface area, or a lot of the time I end up giving up and finishing off with my fingers. Honestly, when I first started getting into sex toys properly, I assumed that the business end of the Mia was the angled end and I was more than a little disappointed when I found out that, no, actually, the smaller pinpoint-y is the functional end, but it's an easy mistake to make – right? The angled end is actually a hollowed out lid to cover the USB, and the vibrations do make their way down there, but by the time they actually get there they're obviously a lot weaker and I'd have to REALLY persevere to get off with them. Bummer.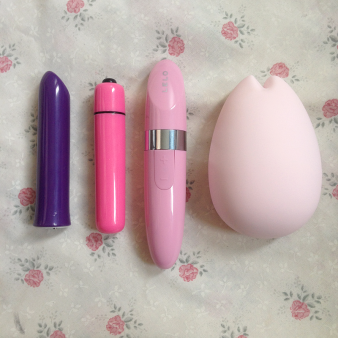 Sometimes it seems like vibrators only ever carry two kinds of vibration: depressingly thin and halted entirely by the faintest amount of pressure, or they go so deep it feels like you could cause a minor landslide with them. The vibrations from the Mia are a great middle ground – not rumbly enough to like, frighten your cat with, but they're not remotely buzzy. I genuinely think that the lower intensities should be the base for every boring basic £9.99 'ideal for beginners' vibrator out there – they're strong, they haven't numbed me and they're actually 'whisper quiet', the buzzword that's printed on every shitty ABS plastic C-battery insertable out there. The lower intensities are a near-silent purr, the highest are only slightly louder, and I promise you, there's no chance of anyone hearing this through a door or a wall or whatever even on the pattern settings. If you're living in a shared house or maybe you're just sensitive to sound, like I am, this is the ideal. This Is It.
The Mia is close to perfect. I hesitate to say that, but it's just so convenient. It's quiet. It's rechargeable. It has an excellent vibration range. It doesn't attract dust, it's easy to clean, and it's waterproof. I can take it anywhere with me with no pre-planning, no, god, better drain the battery and wrap this up in half my lingerie drawer in case it goes off on the train type of hassle. It's so pretty that the prettiness rubs off on me and is capable of making me feel like a sexy and sophisticated person by proxy.
If I had to recommend just one toy to a novice, this would be it. I can call this an all-purpose vibe like I call certain lubes all-purpose lubes, it's everything I love about Lelo and if I was revoltingly wealthy I'd buy one for everyone I know, even the ones who 'don't see the point in sex toys'. I'd still like it better if the angled end really was the business end because it does feel a little bit small for me, but I can't fault it otherwise.
The Mia 2 was originally sent to me by BarbaraKelly.co.uk but they've since gone out of business. You can snag yourself one from one of these lovely retailers –
Lovehoney (UK, intl) | Lovehoney US (US) | Shevibe (US, intl) | Sexy Time Toys (US)