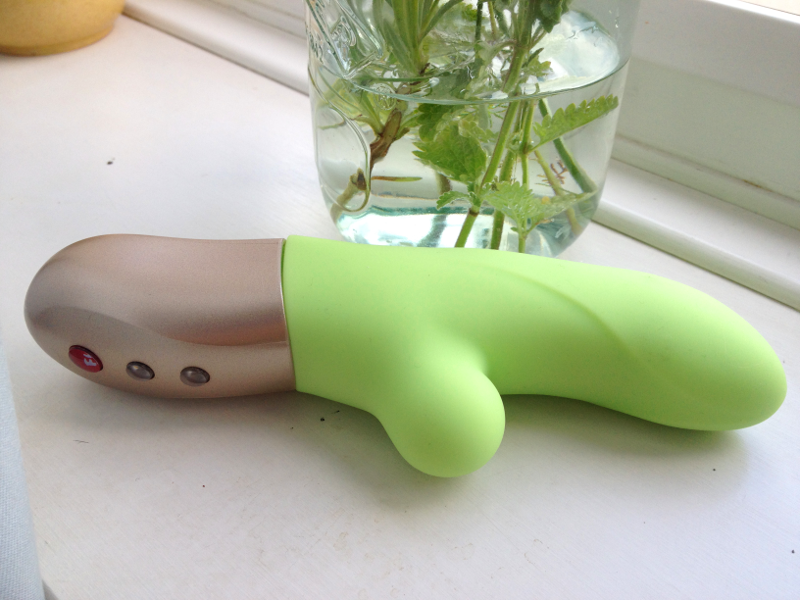 The Pearly (doesn't it sound like a missing Pink Lady?) is part of Fun Factory's line of mini vibes – fairly self explanatory, they're a range of nine vibrators of diminutive shape and stature that happen to be 'perfect for your handbag'. Y'know. Just in case you need a wank on your lunch break. This one happens to be a rabbit style, comes in two delicious colours: candy green* and grape, is rechargeable via a USB click-n-charge system, fully submersible and has a TRAVEL LOCK. Great, right?
Fun Factory's controls are definitely my preferred kind – clacky buttons! A dedicated on/off button! Tons of functions! TRAVEL LOCK! Like, I'm not even a pattern person, I usually skip right through, but these are a little bit more imaginative than your average pulse-pulse-pulse, even featuring something called a 'razzle dazzle' sequence that feels exactly like it sounds – like a team of tiny jazz dancers tip-tapping their way around my vag in the best way possible. Never change, Fun Factory.
In case you hadn't grasped it from the title and how lonely it looks on my not especially wide windowsill, the Pearly is truly a mini vibe – the internal shaft measures 3 inches of insertable length and it has just shy of four inches in girth. I honestly don't remember the last time I held an insertable toy this small. It's positively adorable, a pint sized pocket rocket with vibrations that are…nothing to turn your nose up at, actually, they're definitely not as powerful as the deep purr that emanates from my girlfriend's Big Boss but they are STRONG. High frequency? Yes. Shallow and prone to disappearing when you apply the slightest hint of pressure? No.
Does it hit my g-spot? Nope. There is absolutely no hope of sweet, darling Pearly contributing to a g-spot orgasm unless I repeatedly shove it violently upwards, like my vagina has two floors and the person on the top floor is playing 'best ukelele covers summer 2k13' at an earthshattering volume**. Having said that, I'm not sure if it's really designed for g-spot stimulation – a slight upward curve does not a g-spot toy make – and it does what an internal vibrator is meant to do; it feels good. I like having something to clench around, and the subtle texture paired with Fun Factory's notoriously draggy silicone pulls in the best kind of way.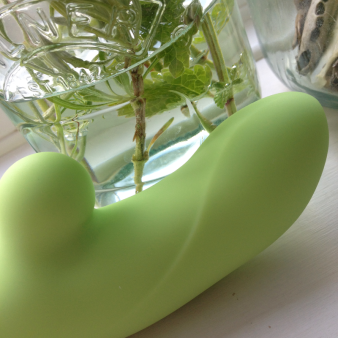 So. The Pearly comes thiiiiiis close to fitting my anatomy perfectly, but the 'pearl' for clit stimulation is just a few mm short of where I'd like it to be; it's not that it's not placed far enough up the shaft as the internal portion is short enough for me to insert comfortably (do you hear that holy, twinkly sound in the distance? it's the short vag gods beaming their blessing down upon me), but it needs to be a little bigger, a little more oval maybe. Perhaps the longer external portions of the Dolly or Tango would've been better.
I can't say I didn't anticipate the all-too-common fitting problem though, being skeptical of rabbit vibrators in the first place, and it's no big deal at this point; I keep my favourite clit vibes next to my bed for a reason, you know? There's enough room down there that I can push whatever I grab first against the bits the external piece fails to hit, which leads to this weird, achingly pinpoint but at the same time not at all sensation. It makes me squirm like a snake that forgot to file its income tax. It's, uh, pretty great – but shouldn't it be doing that all by itself?
For me, the Pearly was not a dual-stimulation wonder. It hasn't changed my mind on rabbit vibrators (I think the concept of them is inherently flawed and it's unrealistic and kind of dreadful to tout them as a beginners, one-size-fits-all dream vibe). But it has managed to grow on me like a friendly little fungus; I've found myself using it often and it lives next to my bed for easy access. I like how small it is, and how I don't need to warm up to use it,  the vibrations are a nice mid range buzz, and I don't have to fiddle around for ages trying to get it to do that one thing I really like. You can stay, Pearly.
The Pearly was kindly provided to me by the nice people over at Fun Factory. Thanks guys! To get your own, head on over to any of these retailers and they'll sort you out –
Shevibe (US-based, intl) | direct from Fun Factory | Lovehoney US (US)
*The pastel hue reminds me of these little apple sweeties.
**The Pearly is a broom in this analogy – waving your vibrator at the ceiling whenever a housemate decides to play ukelele covers is completely ineffective, if a nice arm workout.