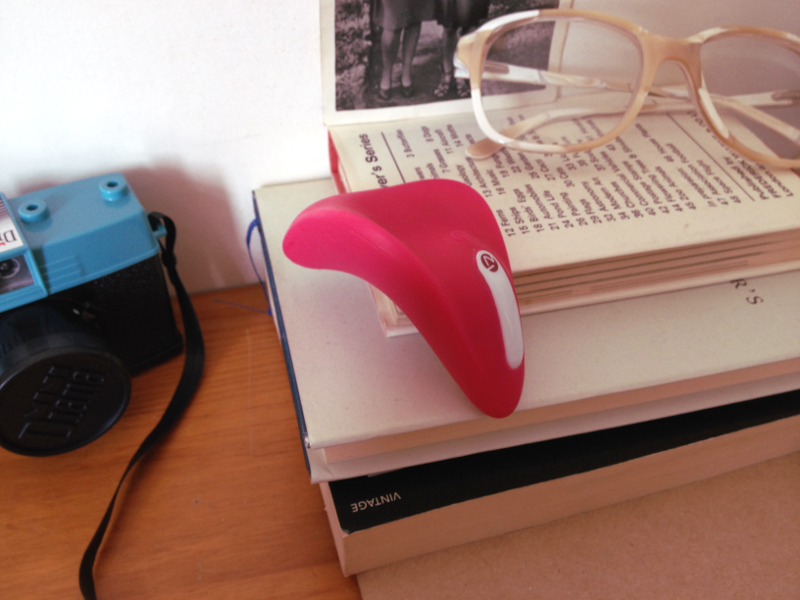 If the Nomi Tang Better Than Chocolate (version 2!) were a girl she'd wear bandage dresses and a lot of Kurt Geiger and have a city boyfriend. She'd have caramel hair, smell like vanilla and Miss Dior, make an effort to drink three litres of water a day and her favourite Naked palette would be the third one. She'd probably have a tattoo of an ampersand or a feather on her inner wrist. Someone well-adjusted and sleek and pretty and smart, someone that I can't fault because the only things I don't like are just up to personal preference.
The btc2's shaped to fit against the human body, almost like a sleeker version of the Layaspot, and made from a buttery smooth pink or plum silicone. There's a faint seam running around the sides, but I can only feel it with my thumb, and there's a little tiny hole in the backside where you push in your charging jack. It's USB rechargeable, waterproof up to a metre, and it also comes in cute packaging, for those of you who are into that. The manual actually asks to 'please reuse the decorative box by storing nice things inside'. Aww.
Okay. So. The btc2 boasts 'touch technology', which I was poised to hate, actually, but – this is something I should never ever ever have to say, step your game up sex toy manufacturers, c'mon – surprisingly usable. You turn it on by pressing the power button, and to amp up the intensity of whichever setting you're currently on you slide a finger down the little touch panel. It's good. It's a nice feature. I wouldn't want it on every toy I own but it works, and it works well. You can also lock the vibrations by holding down on the logo, which initially I thought was a bit odd but it's infinitely useful when I'm using it during sex or with a penetrative toy.
The vibrations are niiiiice; a low purr that borders on rumbly. Think the lower levels of the Touch crossed with the irohas, if you need a comparison. A purr really is the best way to describe it, I think, as the btc2 is almost completely silent. I have sensitive ears and the noises that some more powerful vibrators make can start to make my brain feel like it's rattling around in my skull, but the tc2 just sits in my lap and purrs softly*, and a duvet over the top muffles it to a faint thrum. It seems to get louder on the chacha/chaotic patterns, but as I only ever use the wave and the constant vibration this isn't a huge issue for me.
The shape of the btc2 works so fucking well for my body; I think I've written about my 'ehhh' attitude towards bullets before because they don't allow for the kind of pressure and all over coverage that I like, but the btc2's little dip is nearly perfect. It literally hugs my vulva! I don't have to work for an orgasm at all. If I were going to nitpick I'd ask that the dip be a little shallower but this is obviously an anatomy thing and I think as far as one-size-fits-all goes, they've just about nailed it.
And my absolute favourite thing to do with the btc2? Fuck with it. Lie on your belly, slip it under yourself (this is where the lock function comes in handy) and, er, y'know. Go at it. I swear I saw stars.
The only issue I really have is that the vibrations are very concentrated in the primary tip of the btc2, with the other end left feeling a bit neglected and sad. Although thinking about it, I'm not sure if I would like the vibrations to travel all the way through it as that's a sure-fire way to get a numb palm. You win some, you lose some? Maybe it could be rumblier, too – but if you take cost into consideration, the btc2 is listed at $89/£52 on Nomi Tang's website, which is a couple of notes lighter than the irohas, either We-Vibe clit vibe and a few pounds more than a magic wand or Lelo Mia.
If so-rumbly-it-scared-my-cat vibrations are your thing, and you like painfully pinpoint stimulation, it probably won't do marvels for you, but for me? I like it a lot.
I was contacted by Nomi Tang and asked to review the Better Than Chocolate (version 2!) in exchange for an honest review. If you'd like to buy your own, you can get one direct from their website!
* like a tiny silicone lap cat. kind of.