I don't really go in for Valentine's day. One year someone went and handpicked me a bunch of flowers (they were probably from someone's front garden, honestly) but forgot about my hayfever and I spent the rest of the day trying to look pretty while sneezing, last year I got blackout drunk with a girl I was seeing and we had so much sex that I went into this nightmarish Naked Lunch-esque delirium brought on by too many orgasms and 50p shots that tasted almost exactly like lighter fluid. In the morning there was a neatly beheaded dildo chilling out in the bathroom sink and she told me I sounded like 'one of those real exorcism videos'.
Also, it's a horrible capitalist heteropatriarchial 'holiday' that makes otherwise nice people either insufferably smug about how great their v-day is going ('Oh, he bought me thiiiiis, and thiiiiis, oh I'm so lucky, did you not get-? oh. OH and thiiiiiis') or about how much they hate v-day ('I'm on a date with netflix. you know saint valentine was EXECUTED right? it's a FESTIVAL OF DEATH, basically'). Everyone does some variation of this. Literally everyone. Nobody cares.
This isn't really a gift guide, it's more of a 'what I'd want to put in a window display' or 'here are a bunch of sex toys that still fit in with your cutesy valentine's theme but aren't flappy lil bunny kiss vibes'. Also, there's a ton of sales going on right now – it'd be silly not to, right? Right…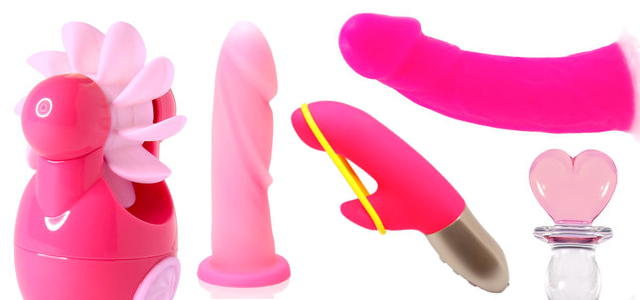 Pink things! Pink is like, the official colour of the honeymoon period. It's the colour of rose quartz, and fluffy summer sunrise clouds, and candyfloss, and turkish delight. Newborn baby mice. The inside of your mouth. And there are so many exciting hues to choose from – except actually not really at all, as you can see here, because for some reason the sex toy industry seems to only want to make toys in baby-blanket pink and that heinous middle of the road fuchsia. I want to see some dusty rosy pinks! Strawberry ice cream pink, complete with sprinkle effect! Coral pink! Fuchsia isn't romantic!
L-R – Sqweel Go, looking like an aquatic behemoth and available at Lovehoney for £39.99/Tantus Cush, in pink, blue, or icy lilac, $76.99/Fun Factory Amorino – I really don't care how big of a gimmick this thing is with its weird little cupid's bow, I want it – available at Lovehoney for £54.99/Vixskin Mustang in neon pink, tie-bright or a variety of flesh tones, $99 at Shevibe or £79.99 at Lovehoney/Crystal Heart wavy glass dildo, £28.99 at Lovehoney. Header is the Lovehoney flash 6 function rechargeable bullet, £24.99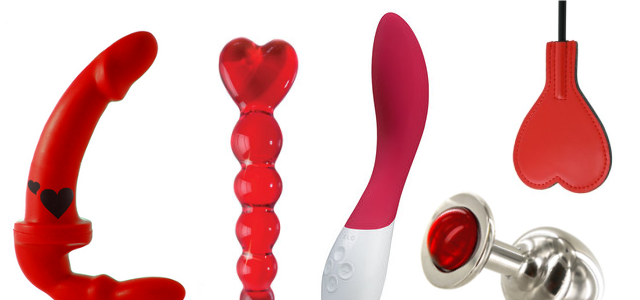 Rrrrrrrrrrrrrrred. If it's red, all you have to do is stick a heart-shaped sticker on the packaging and it's good for V-day. Red is a fiery, sexy colour, it's the colour of red rose petals and red wine and an especially well spanked bum and strawberries (are aphrodisiacs a real thing?) and if you're my old print tutor, it's the colour that clouded her vision when she came home one fateful February 14th and found her husband canoodling on her antique chaise lounge with one of her students. True story! She liked to talk about that a lot.
L-R – BSisnice Olga in the special heart edition, 130€/Icicles no. 32, £36.99 at Lovehoney/Lelo Mona 2, purple or red, £88.99 at Lovehoney/Bondage Boutique heart shaped crop, red or black, £14.99 at Lovehoney/Julian Snelling rosebud plug (small), 59€. Header is the Rocks Off RO-80mm bullet in red, £9.99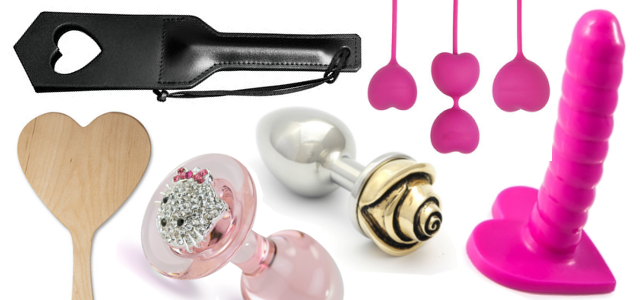 Sex toys and spanking paddles with hearts-n-flowers doodads are some of my favourite things. I love anything kitschy and weird and nauseatingly cute and in the case of a paddle, if it promises to leave a heart shaped bruise I will be ON THAT. Also, a rose buttplug is the perfect thing to express my love for both buttplay and gardening at the same time.
Clockwise from top left – DOMINIX leather slapper paddle, £18.99 at Lovehoney/OhMiBod Flex silicone kegel excercisers – £32.99 at Lovehoney, $45 at Good Vibrations/Sh Wirly Girly 2 silicone dildo, £31/Julian Snelling large bronze rose plug, 99€/Crystal Delights kitty medallion glass plug, $94.95/Heart beat wooden paddle by EgoDriven @ Etsy, $15.99+. Header is either a rogue sea cucumber or the Shag Factory flower power bullet, £7.99
I hope you all have lovely V-days with plentiful orgasms, minimal crying and no allergic reactions!