The Cush is all kinds of adorable for something that's seven inches long and so girthy that I can only just fit my whole hand around the widest part. I received mine in the candy colour, which looks like someone poured a carton of semi-melted strawberry sorbet into a dildo mould and let it set, and as it's from Tantus' dual density O2 line it's got this plush outerlayer that's especially squishable (is that a word? I'm making it a word) at the tip – I can pinch and prod at this thing all day! It's like one of those desktop stress relievers, except it's phallic and you put it in your various orifices. For stress relief. And orgasms.
The Cush is a chubby little cutie – it measures just shy of 6 inches around over the bulgy tip, the prominent ridge midway down the shaft and at the base, where it feels firmest and the outerlayer is thinnest. It's safe for butt stuff and even fits into my RodeoHs, but it causes major sagging and I have to wander around with this piece of semi-translucent silicone dangling between my thighs like a cowboy. The soft matte silicone attracts every bit of dust within a two foot radius, although not as badly as my other, shinier, grippier Tantus toys do (Goddess & Splash), but I would not advise an impromptu dildo-blowie unless you've just given it a good rinse. Even I don't know why I keep doing that, you'd think I'd know better by now but I guess all my primary school teachers were right and I'm doomed to go through life getting lint in my mouth one way or another.
The Cush is currently the biggest insertable toy I own, and as it's sooooo girthy (do not underestimate how big it is, I know I didn't fully realise quite how large it is until I actually had one in my hands) I definitely need warmup before I use the Cush –  I've fallen into doing this three-step thing, kind of like my evening skincare routine, but instead of oil cleanse, tone, and moisturise, it's wand, something glassy, Cush. I really can't stress how important lube is here either, I'm actually on the lookout for a new, thicker but still water-based one as my much-beloved Sliquid H20 doesn't work as well as I want it to with this unless I seriously slather it in the stuff. It's too runny.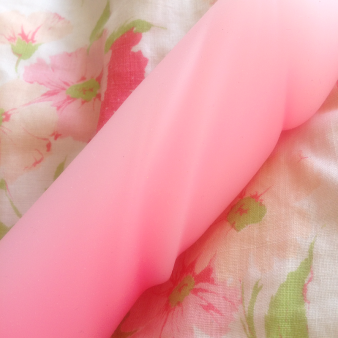 Oh my god though, it's so worth the fuss. I don't know what it does or how it does it but mary mother of christ and all her angels, jesus be a fence around me and protect me from the devil because this thing is STUPID good. The only explanation I can come up with is that it really fills me up – ugh, most disgusting wording ever, sorry – and as a result my g-spot has nowhere to hide. I don't even have to work at it! It's magic. Other people have mentioned in their reviews of the Cush that it can be difficult to thrust with because of the broad flat base, but I don't really thrust with my dildos, I tend to do more of a jiggly movement, so this isn't an issue for me.
I do have a little bit of a gripe with it though. That gorgeous ridge midway down the shaft? I stand no chance of getting that inside of me and it is maddening. Depending on how I'm using it or having it used on me, the deepest I've been able to take it is so that the ridge is just about tickling my vaginal entrance. So close! So far away! This is such a shame because I lllllove texture and I was really looking forward to feeling that beautiful ridge, but I guess it's just not meant to be for me and my shallow vag. It's also been puzzling me a bit, because I can definitely take my Mustang deeper than I can the Cush, and my dude-thing is around the same size as the Cush but slightly longer and thicker round his, uh, base? and I know that he goes deeper than the Cush. Maybe it's because the 02 silicone has less give? If you can take this glorious toy in your butt or vag deep enough to feel that ridge, I salute you and please tell me all about it so I can live vicariously through you.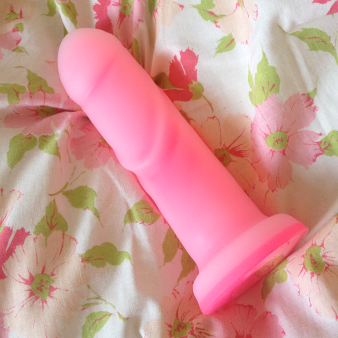 The Cush also works really well for harness use and as you'd expect, being fucked with it is amaaazing. I almost prefer using it that way to using it for masturbation but it can get a little overwhelming in the best kind of way with all that girth, and we have to use a more heavy-duty harness than we would with a smaller dildo as it does have a tendency to flop about and sometimes needs a bit of a helping hand.
I love, love, love my Cush. I like larger dildos to be squishy, and while it's not as soft as I'd like it to be it's still plushy enough to satisfy me – if you're wondering about how O2 holds up to Vixskin, Vixskin is significantly softer and feels more 'realistic', but the O2 is more matte, doesn't collect as much dust, doesn't have the same borderline-tacky quality that Vixskin has and is less prone to sliding about. It's cute as fuck and I don't even have to do any weird angling to get it to hit my g-spot the way I want it to, it just does! It's a true marvel. Thankyou, Tantus, for making this perfectly formed chunk of premium silicone, and please don't ever discontinue it or I'll cry, probably.
I was sent the Cush by the total angels over at Tantus in exchange for a review. You can also get one from Shevibe!