I love sleepovers. Sexy kind, non-sexy kind, whatever, I don't care! I'll quite happily sleep on the floor under a musty holey blanket if I get to watch films and stuff my face with peach gummies and do sleepover activities, like plaiting other people's hair, or painting each other's nails, or playing a game of spin the bottle that eventually devolves into an orgy. For sexy sleepovers, I generally take a little toolkit with me; a small box or makeup bag with some essentials in it. There's no expectation, but it's useful more often than not and even if your plans fall through you can always race your vibrators. What's not to like?
ESSENTIALS – LUBE & PROTECTION
A. Condoms! I'm cheap and luckily don't have a latex sensitivity, so I just carry around the ones you get given at NHS walk-in clinics over here. I normally opt for the flavoured kind cause I'm fancy, although they all taste fairly awful. One size fits most and you can also do a quick slit 'n' snip to make a dental dam. #glamlyf
B. Give Pleasure came up with the genius idea of 10ml Lubeshots – aqua is around £1 a shot, while silicone+ is slightly more pricey – that are PERFECT for sleepovers. While convenient, single serve portions can get messy; you know when you only need half the amount and then you have to find a place to put your oozy lube tube and you go back for it for round two and it's glopped all over your petit bonbon's most treasured record sleeve/t-shirt/tchotchke? If you're a mucky pup like me, Give also make pocket-sized 30ml mini tubes of their aqua and silicone+ that retail for around £4-6. You're welcome.
C. Yes oil-based lube is my current favourite lubricant. As someone who used coconut oil as lube for a long, long time, this is pretty much like that, but it feels more…luxurious? and I prefer the texture of Yes to the texture of raw coconut oil. It's amaaaazing for butt stuff and comes in a teeny weeny 25ml bottle that's smaller than a lighter. And it's flat enough to tuck into your bra/socks for seriously stealthy sex missions. And it works well as a lip & nail treatment. However, like all oil-based lubes, it's incompatible with latex condoms.
Honourable mention – Sliquid Silk Organics is ideal for piv sex due to the uncannily 'natural' feeling texture and I almost never need to reapply, but the bottle's rotund, a bit bulky, and takes up too much room in my everyday bag. Sorry babe. See you in the deluxe edition.
 EXTERNAL VIBES
A. The Iroha Yuki might be the least ergonomic of the three, but it's especially reassuring in it's gentle puffy squishiness, packs a surprising punch for something that looks like an adorable little cloud, plus it's made of a magical material that doesn't attract dust like at all, although I still wouldn't forego slipping it into a storage bag. The charger, however, is anything but travel friendly, and I'm unsure about the porosity of the Iroha line, which is why both my Irohas are considerably less well-travelled than my Mia 2.
B. The Mia 2 is the lightest, quietest, and most inconspicuous of the three, plus it has a travel lock, so no matter how eventful your journey might be (especially lurch-y tube journeys, night buses, a gropey makeout session) it's not going to go off and cause you massive amounts of embarrassment in the thirty seconds it takes to find the offending vibrating object, struggle to switch it off, and mutter 'god, my phone', all the total disbelief of your fellow passengers. All of whom can totally see your phone right there in your pocket. You can't even get signal. You're literally under ground. I find the vibrations more than powerful enough, but I'm no power queen either.
C. The We-Vibe Touch is my favourite and the most intense, and the best shape for keeping in place during penetration but it doesn't have a travel lock. Although it's much less susceptible to going off at random than the Tango – I have tested this! – the silicone on the original version attracts a frankly unacceptable amount of fluff; there really is nothing that says 'I am a highly sexually evolved person' quite like pulling out a fuzz encrusted silicone appendage. Take a wet wipe. 
Honourable mention: The We-Vibe Tango. It's small, versatile and beloved by pretty much everyone, but the push-button base makes it too volatile to take with me even if I roll it in layers of socks and force it into a storage bag. Put a travel lock on it and then we'll talk.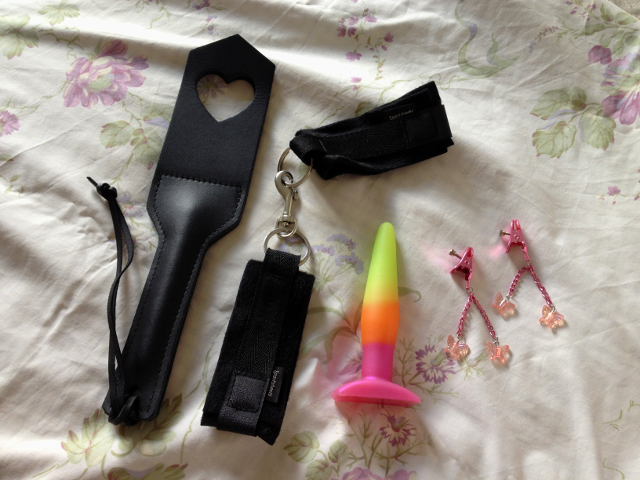 OTHER PARAPHERNALIA I DON'T TAKE UNLESS ASKED TO
A. The Dominix cutout paddle from Lovehoney is short and light enough to tuck down the side of my bag, delivers a pleasant sting but isn't frightening – I love my Pelt paddle but I would not want to use that on a beginner – and is best suited for general hijinks, playful swattings, and playing the 'let's see how many hearts I can put on you' game.
B. The Tantus Meteorite. My little space cadet. It's had a cameo in three different reviews now, but hasn't had the spotlight all to itself just yet. The Meteorite's easy to travel with, it's slightly thicker than two fingers, delightfully flexible, and is pretty much the ideal warm-up toy. Plus the rocket lolly colours have never failed to elicit at least an 'oh, pretty!'.
C. Sportsheets black beginner cuffs. Granted, they're not the cutest cuffs in the world and you won't be able to do any swinging from the ceiling style suspension play with them, but they're vegan, you can pop them in the wash after you're done, I don't feel like I'm going to wriggle out of them, and they're reeeaaallllyyy adjustable; they comfortably fit both my skinny fop wrists and my dude-things big bony ones. Not bad for a tenner.
D. Super femme nipple clamps. I don't remember who makes these (they were labelled as 'bitchy butterflies', I know that much) and I wish I did because they are SO MEAN AND I LOVE THEM. They're covered in shimmery baby pink paint with tacky iridescent butterflies dangling on matching pink chains, have uncoated jaws, are highly adjustable, and bite like hell if you let them. They're like the Courtney Shayne of nipple clamps. They are ridiculous.
Honourable mention: Julian Snelling large aluminium plug. It's gorgeous, lightweight, and my perfect size and shape but I just don't trust other people with it enough. It's too pretty. It's not happening.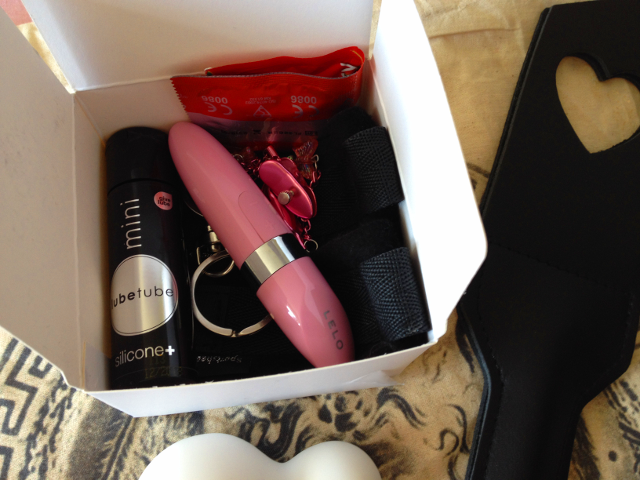 So! That's it. I can fit most combinations of the items listed into a small makeup bag or container. It also turns out that the boxes the Tenga irohas come in are actually ideal for this kind of thing; in the one pictured above I've got condoms, nipple clamps, Sportsheets cuffs, a mini Give Lube and the Mia 2 with room for another small vibe or plug – just pop a plaster or masking tape on the top to shut it as stickytape can tear the cardboard and you'll have to cut it open.
Update – Lovehoney now make special zippy cases with locks that would be PERFECT for this. The small one looks ideal, and there's a medium and a large, too!
I'm going to write another post on travelling with sex toys (ROLL EVERYTHING UP IN SOCKS), plus a big bad deluxe edition of this post, but until then I hope you all have lovely healthy sexually-and-emotionally-fulfilling sleepovers. And if you're living with your partner/s I hope that every day is like a wonderful sleepover for you! Except for when you don't want it to be like a sleepover and you do actually have to talk about Bills and Adult Grown Up Things. And if anyone else has a little sleepover kit, I wanna see yours!