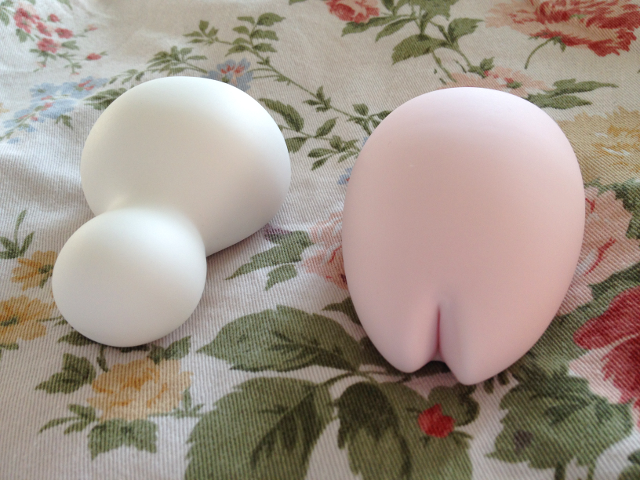 The Irohas are obnoxiously adorable. Plush and palm-sized, they look like minimalist animations come to life and come in three different varieties – sakura (cherry blossom), midori (a little green thing. a leaf? a pear?), and yuki (snowman), each intended for a different purpose.
Getting the kind of stimulation I prefer out of vibrators is difficult for me; the one external vibe I've found so far that rivals my fingers is the We-Vibe Touch, thanks to that scoop shape it's got going on. It's like surround sound for my clit! I just wish it was softer because I like a shitton of pressure and pushing that scoop against my clit for twenty minutes feels great at the time, but then I wind up with bruised inner labia and that's not fun. The Irohas, I think, seem to be aimed more at pinpoint stimulation using their respective tips, using a light touch to take full advantage of the silky soft 'skin'.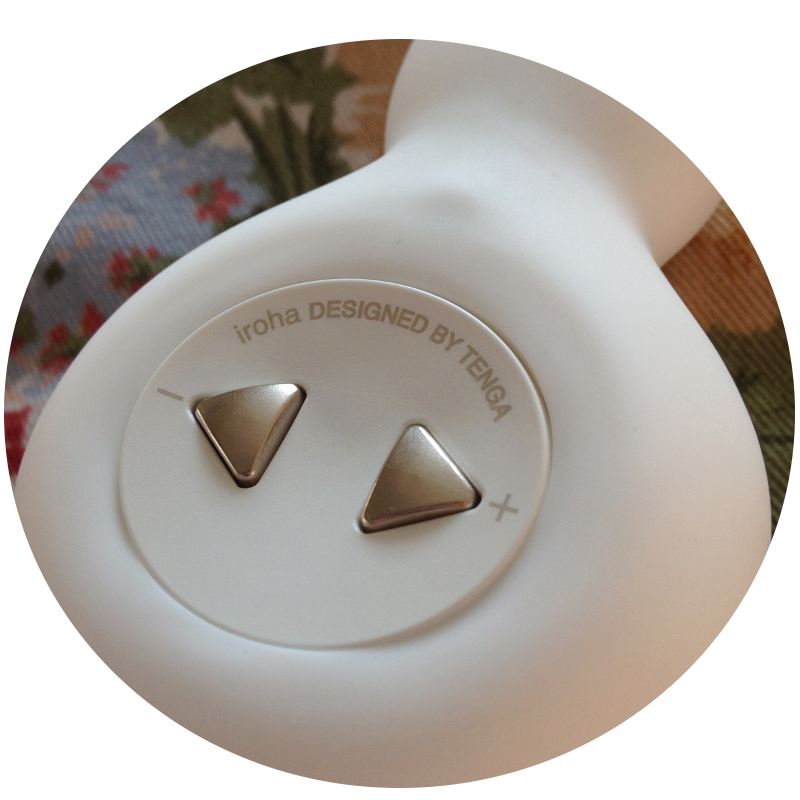 That magical, dust repellent (it really is dust repellent – I have no idea how they did it but nothing sticks to these, Tenga delivered on that) skin is a little bit of a letdown for me and yet another reason why you should probably go to a sex toy shop to feel up the items you're interested in before you drop cash on them. The issue I have is that in pictures, the Irohas look like puffy marzipan sweeties and you assume – I did, anyway – that the squishiness goes far deeper than it actually does. The reality is that you can push your fingernail onto the Irohas and touch the firm plastic that lurks a few millimetres beneath.
This very quickly dashed all my daydreams of literally hugging a fluffy cloud to my genitals and brought me back down to earth with a thud. Oops. They're not as quiet as they look, either – I imagined they'd emit a soft purr at most but I have to smuggle them under the duvet to use them if anyone else is around.
With three speeds and a single (!) vibration pattern that I never use, the Irohas aren't overly complex – until you get to the elaborate charging setup. Each Iroha comes in what looks like a pretty display case, which is actually the charging port. You plug this into the mains using the plug provided and wait 2 hours for it to charge (because a magnetic click-n-charge cable would be too easy) and if you don't have the privacy required to do this, then, uh, I guess you'll just have to throw a jumper over it while it charges? The controls are located on the flat underbelly of each Iroha, and thankfully the buttons are the clicky raised kind – if they were the flat Lelo kind I don't know if I'd ever be able to change the speed in use. It's not waterproof, either, which…mmm.
The vibrations the Irohas give off are nothing to turn up your nose at. Rumblier than your average clit vibe and more powerful for sure than the Lelo Mia 2, they're more than enough for me and I use them both frequently. They're a nice middle ground for people who don't really know what they like, I think, and they give me warm, fuzzy orgasms. I want to roll over in my duvet and take a lil nap afterwards.
I prefer the shape of the Sakura over the Yuki; I can smush the squishy pincers of the Sakura around for a kind of clit-cuddle, and I use the Yuki by pressing and rolling the little head (I guess you'd call it a 'head' – it is a snowman) around, like a massage on a very small scale. I don't use it internally as suggested; yes, the first three inches of the vagina might hold the most nerve endings, but inserting that small satiny sphere doesn't do a huge amount for me.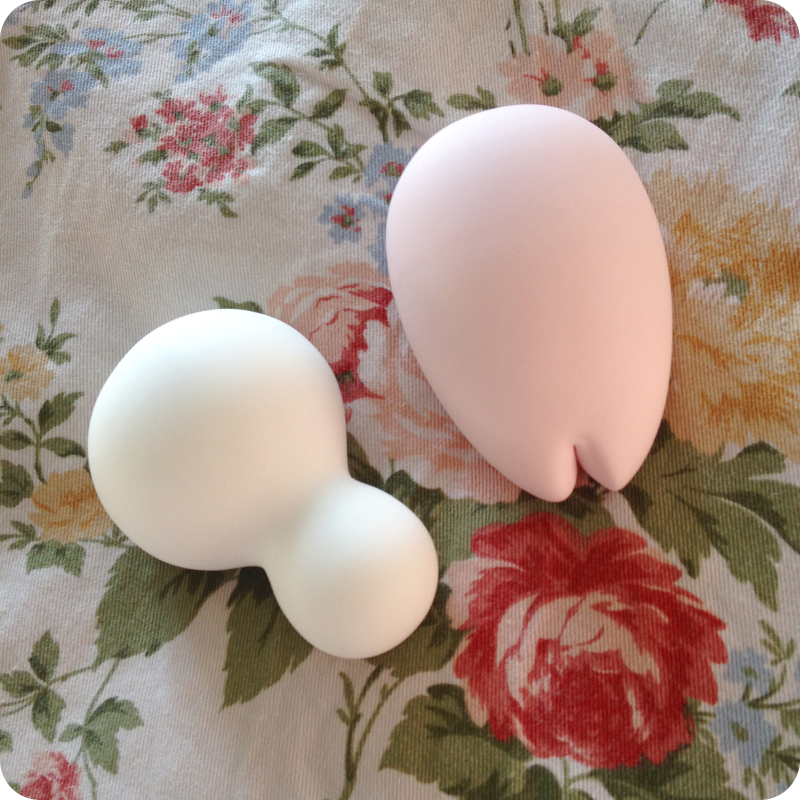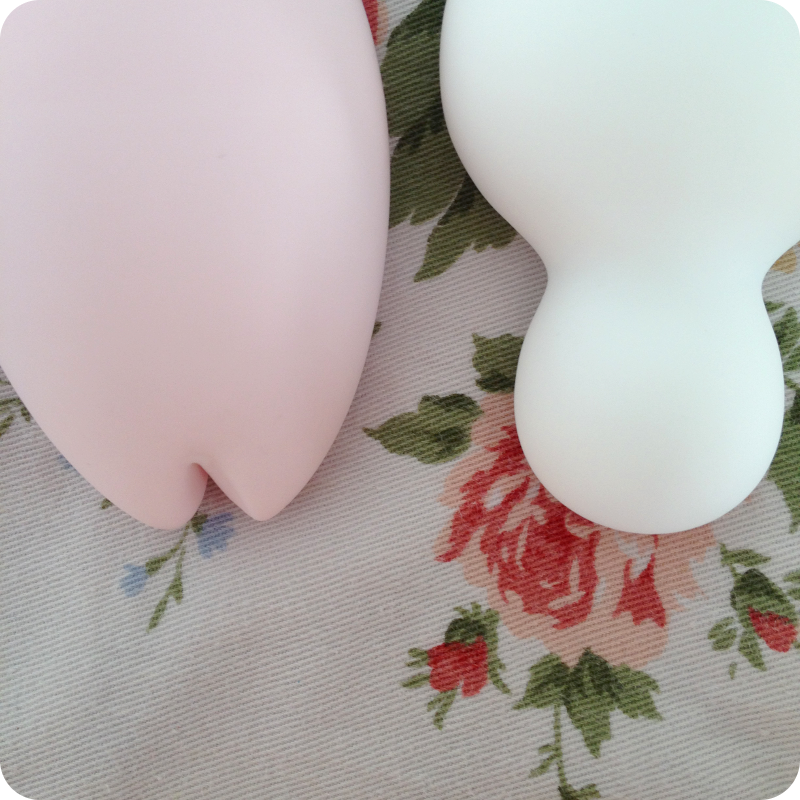 I generally don't talk much about price in my reviews, but I think that unless you're looking for a particular kind of stimulation (more of a brushing motion than intense pressure, maybe, preferring pinpoint to diffuse) the price is almost prohibitively high. I do admire Tenga, they rank up there with Fun Factory on my list of companies whose toys I want to collect and leave out on display like sculptures in their own right, and yes, they're body-safe and yes, they're rechargeable, but £64.99 for an external use only vibrator that produces ever-so-slightly rumblier than average vibrations and isn't waterproof just doesn't seem…fair. I didn't pay full price for either of mine; I was bought the Yuki by dream babe, who got it on Lovehoney's deal of the day, and purchased the Sakura myself when it went on sale over christmas. If they died and they weren't under warranty, would I buy them again? Sure I would! With a discount code.
I do like the Irohas. I'm a little infatuated with them. They're soft, small, easy to use and travel well – not counting the ridiculous charging/display box – and the vibrations are a comfortable middle ground rumble. I just think they might be a tiny bit overpriced, that's all.
You can get yourself an iroha of your choice at any of these retailers –
Lovehoney (UK & intl) | Shevibe (US-based, intl shipping) | Simply Pleasure (UK)