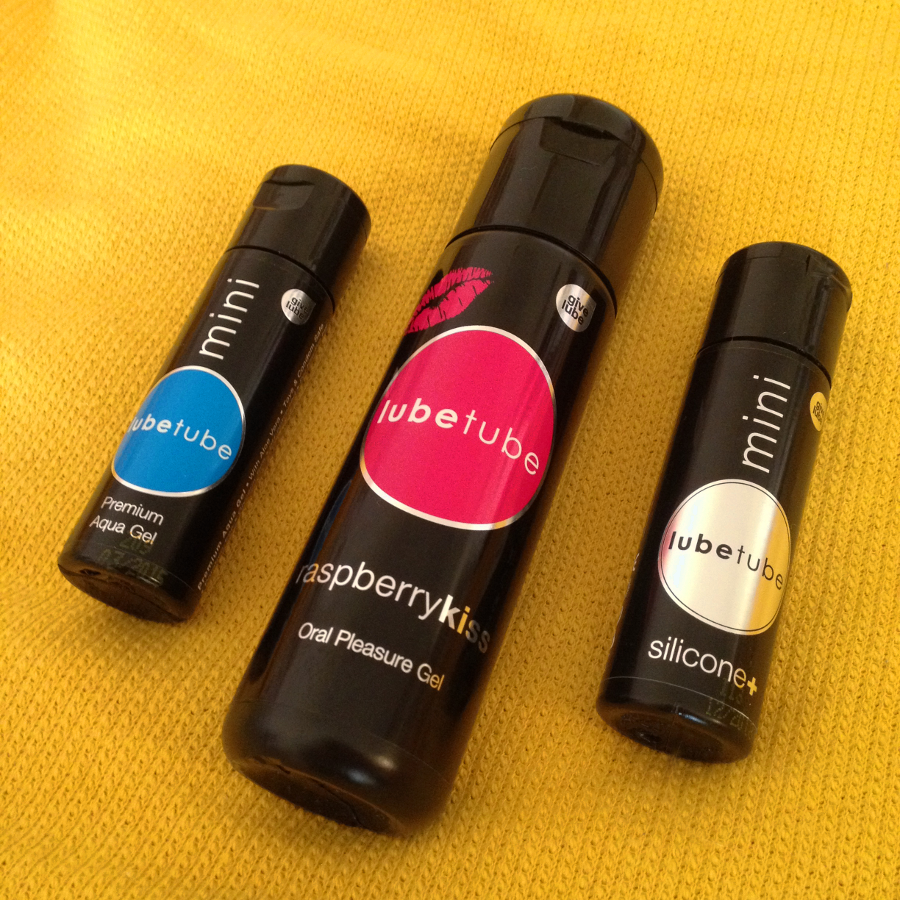 The lovely people over at Give Pleasure sent me a parcel full of lubes 'n' things to review a couple of weeks ago and I've been putting it off because I've had the crashing realisation that I'm terrible at reviewing lube. How do you describe the texture of a liquid without actually being able to grab someone's hand and go 'here, touch it, feeeeeeeeel it, revel in it'? There's only so many times you can say 'slippery' before everyone figures out that you've run out of words. Luckily for me, I ended up having a broad range of experiences with them, so all is not lost and I managed to write about them without breaking down or using 'slick'  a hundred times.
PREMIUM AQUA GEL
Oh man, I hate starting on a bad point but I am not a fan of the Aqua gel. It feels pleasantly slippery when applied, but dries tacky (nobody wants pubes that are all clumped together and CRUSTY after fucking – no, I am not removing my glorious nether garden for anything) and tastes like that one time I licked a battery. On the plus side, it lasts a reasonably long time for a water-based lube, it's thick without being jelly-like, and thank GOD that the chemical taste isn't mirrored in the smell. I just don't know what to do with it. The texture's pretty great but the stickiness renders it almost useless and the taste makes my tongue curl up in disgust. I really can't say any more about it without being straight up unkind. I'm sad about it. Promising formula, abysmal finish. Moving on.
28/06 update – Recently I've been trying to give the premium aqua gel another chance but whenever I use it internally it feels like I'm burning in addition to a slight numbness. It's painful and I'm not sure why this is happening – maybe it expired super quickly? Maybe I've developed a sensitivity? However, I'm still going to recommend their flavoured lubes and Silicone+ because those are genuinely good products and have never made my vagina feel like it's sucking on a throat pastille. Just not the aqua gel. Really, really not good.
RASPBERRY KISS
Initially I was really, really wary of the 'oral pleasure gel'. I've previously had bad reactions to lubricants that contain glycerin – although not all of them – and I'm just not into super-sweet shit; American style frosting makes me wanna vom and doughnuts give me headaches. You get the picture. Raspberry Kiss tastes exactly like the flavoured syrup you get on Mr Whippys, if slightly tangier, and while it might be veering on too sweet for me, I can respect them for managing to replicate that taste almost exactly. It's uncanny!
I couldn't use the Raspberry Kiss gel with dream babe (she's a sensitive flower and can't put anything that includes glycerin anywhere near her vag lest a 'fruity cottage cheese' evolve down there) but my dude-thing was up for it so I applied a palmful until his peen looked like a shiny pink tentacle and went to town. It's much less ice cream syrup-y when it's actually on someone's genitals, if still a tad too saccharine for my liking, and has a gel-like, slippery texture. It does dry slightly tacky, but by some miracle not as badly as the Aqua gel does, and I haven't had a bad reaction to it. I like it. It'll take me a while to get through the bottle, but it's a good lube, and I'd recommend it to anyone with a sweeter tooth than me.

SILICONE+
Silicone+ is definitely my favourite of the three. It's light, slick, and extremely runny – actually reminding me of grapeseed oil but being (obviously) less oily, it has no taste or smell, and I have never needed to reapply. Literally never. The thing with Silicone+ is I'm a lot less concious of it being there than I am with water-based lubes; everything still feels good and slippy-slidey-fun-times, but it just feels less…noticeable, I guess, and it's great. You can really feeeeeel everything! Like, sure, there are a few minor downsides – I'm not exaggerating when I say it's extremely runny, and it left a small greasy patch on my duvet cover, but if you're quick you can avoid getting it everywhere and the stain came off in the wash. A drop the size of a 20p piece is more than enough to cover one of my large metal plugs, and I can see it being ideal if you're into bigger things in your butt – njoy Pure 2.0, anybody?
Overall? While being a bit hit and miss, I liked 2/3 of the lubes that Give Pleasure sent me, I'll definitely be purchasing the Silicone+ in a larger size after I run out and while the oral gel wasn't to my personal taste I doubt that'd be an issue for most people.
I was sent these lubes by Give Pleasure in exchange for an honest review! You can buy them in varying capacities (individual lubeshots, mini tubes, midi tubes, and maxi tubes) over at Simply Pleasure, and they also have a list of stockists on their website.